Southern China International Model United Nations 2018 (SCIMUN) officially began on Thursday 22 of March, with a strong contingent from Dulwich International High School. Advisors and delegates from schools all over Southern China congregated in the Hilton Nanhai Wing.
For the most part, the day was comprised of policy debate speeches. The delegates had the chance to share their country's positions and learn about others' stances, providing a basis for lobbying and merging.
Throughout the evening, delegates formed their resolution groups, the beginning of something that would be continued for the following two days. Even though the debate ended late, the delegates worked into the night to finalize their resolutions before approval panel on Friday.
On Friday the delegates were up bright and early for another long day. They continued to develop their resolutions, so they could be scrutinized by the approval panel. The approval panel made sure that all resolutions were correct in structure and accurate in information.
Saturday was the last day of the conference, starting off with heated debates in General Assembly. All 150 delegates gathered in one committee, discussing resolutions from each of the four assemblies. SCIMUN organisers said about the conference, "It was difficult, that's for sure, but rewarding. In the afternoon, they finally got a break with the closing ceremony. Awards were given out and speeches were made, leaving everyone in high spirits."
Although all DHZH students made valuable contributions to their committees Victoria S was awarded "Outstanding Delegate" for her committee. Well Done.
I learnt that we need to be brave so that we can tell people what we think. We don't need to be afraid of making mistakes. Also the debating skills I learnt are wonderful. I can use these not only in MUN and WSC but also in my life.
- Minnie W, Student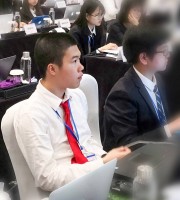 I learn that there are many people who are better (at debating) than me, but that's why I need to work hard and continue to learn from them, to make me a better person.
- Ronnie W, Student