More Students Getting Better Results in More Subjects
At Dulwich International High School Zhuhai we challenge our students to be the best that they can be, and we are proud to bring you the outstanding highlights of the A-Level, AS-Level and IGCSE results from the academic year 2017-2018. DHZH has again produced strong results across the board that would place us highly in comparison to UK based independent schools.
A-Level Results
It has been another outstanding year for our A-Level students. The achievements of these students would easily rate Dulwich International High School Zhuhai highly against the top five percent of schools in the UK. With 33.3% of grades of all students being grade A* (DHZH highest ever percentage of A* at A-Level), this would place us above many of the very best independent schools in the UK.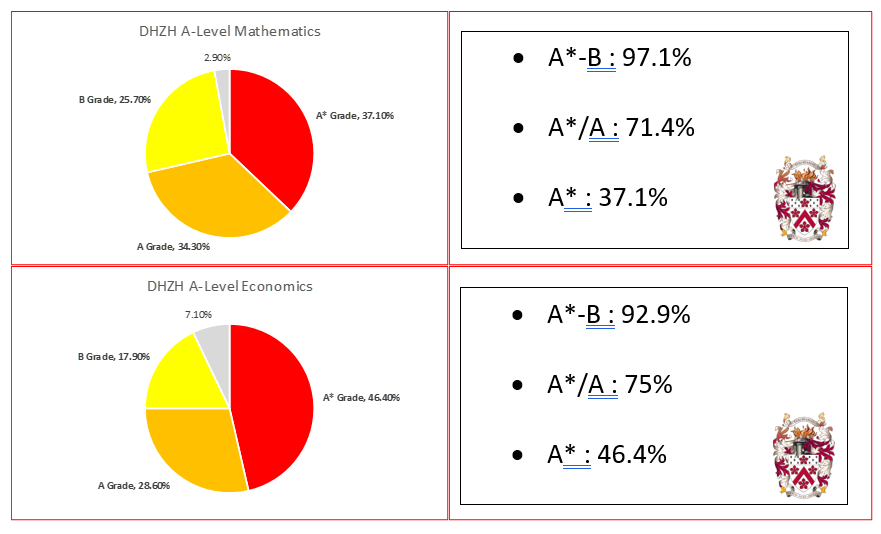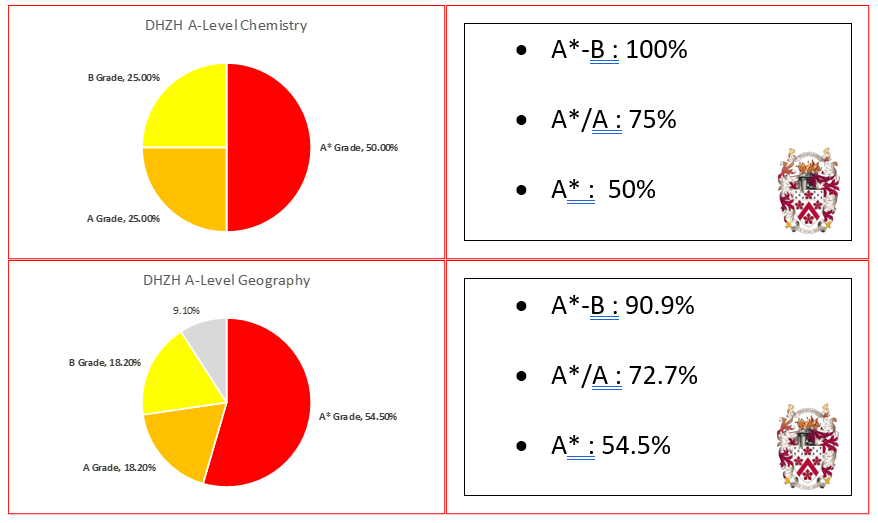 Over 64% of A-Level grades were an A* or A.
In their chosen top three subjects, 43% of student's graded all A or A*.
Five students achieved 3 A*'s (two of which had 4 A*'s) at A-Level.
A-Levels are the final high school examination and the criteria that Universities use for selection. These results will enable their entrance into the top Universities in the world. Our students from this year have accepted placements or offers from the likes of: UCL, LSE, Kings College, Imperial, University of Melbourne, Toronto and Manchester, McGill, Bristol, University of Arts London and many more.
DHZH Director, Andrew Macdonald-Brown said, "We are rightly delighted by the results of our A level students this year. The hard work and commitment they have shown has resulted in some excellent outcomes. With one third of our A-level grades being an A*, which is our highest ever, almost all our students will be able to go to their 'firm choice' university. The support they have received from parents and an exceptionally hard working and talented team of teachers should also be acknowledged. Well done to everyone."
Year 12 AS Results
With over 79% of students reaching A-B in this year's results for Year 12 AS exams, it has been Dulwich International High School Zhuhai's strongest ever year. This is even more impressive for those completing the A-Level Mathematics course in one year - which is not included in these results; with approximately 54% achieving A or A* grades in this subject.
In their chosen top three subjects, over ⅔ of our students gained ABB or better.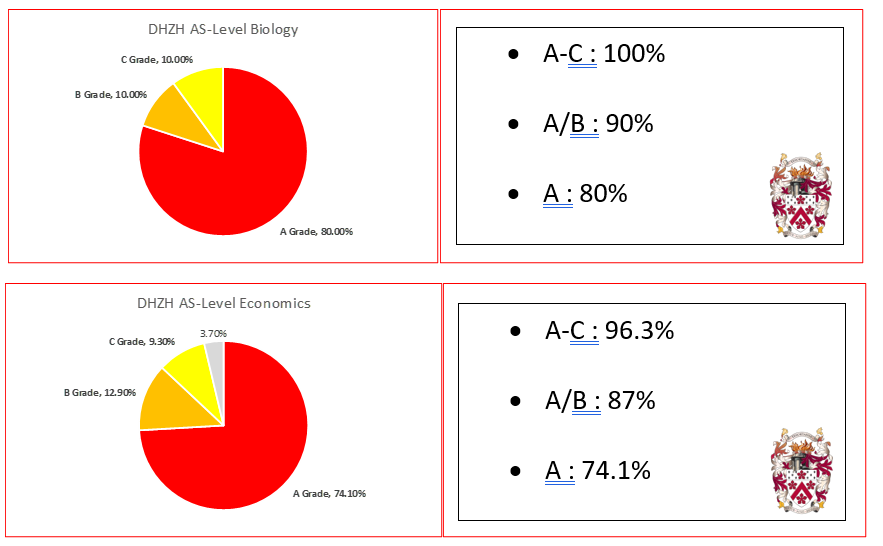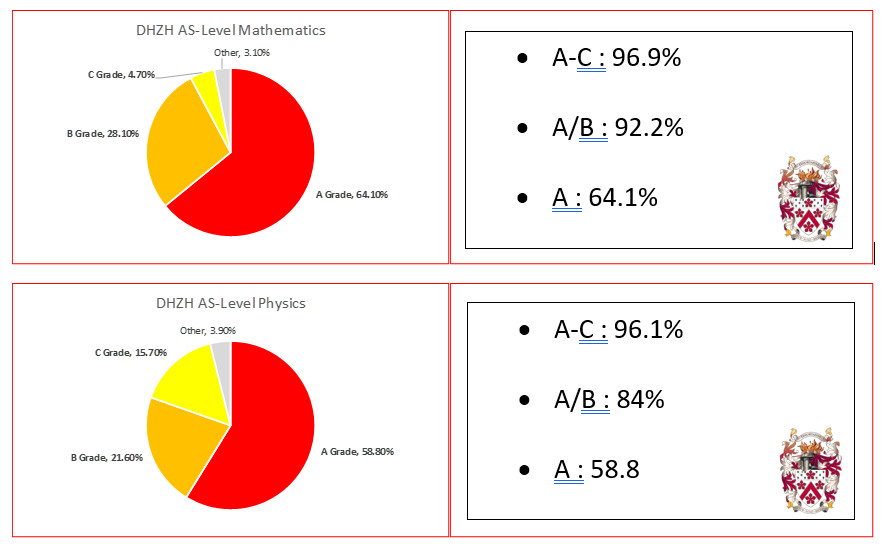 Overall, 92% of AS grades achieved were an A-C.
100% of students taking the Music exam achieved grade A or B.
Deputy Director, Simon Oakley said about our AS-Level results, "With almost 4 out of every 5 AS grades being an A or B, this year group has the strongest ever AS grades. They now have the opportunity to build upon these successes to achieve fantastic A-level grades at the end of this academic year which will allow them to attend some of the best universities in the world for them in the future."
IGCSE Results
At the start of the ninth year of Dulwich International High School Zhuhai the results have returned from our largest cohort of students ever (92). It is pleasing to report that our school has more students, getting better results, in more subjects.
Eight of our students received an A* or A in all of their eight IGCSE exams (with one student receiving 8 A*'s in the exams).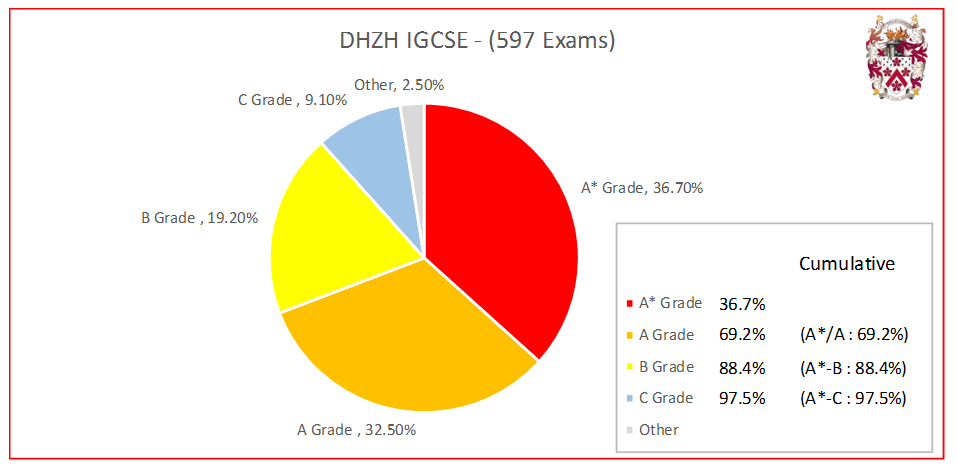 96% of students gained A*-C grades on at least 5 IGCSE's.
A hugely successful pass rate ranking highly against the top independent UK schools.
Deputy Director Carol Han said about the results, "Our student's dream of becoming scientists, artists and leaders, but all of them know that it is going to takes hard work to achieve their goals. These young students have shown their commitment to education, and with their continued efforts, Dulwich International High School Zhuhai will be vital in helping them blossom into the leaders of tomorrow."